Sazae-san, Doraemon, Anpanman, Dragon Quest, Kiteretsu Daihyakka, Hai Akko Deso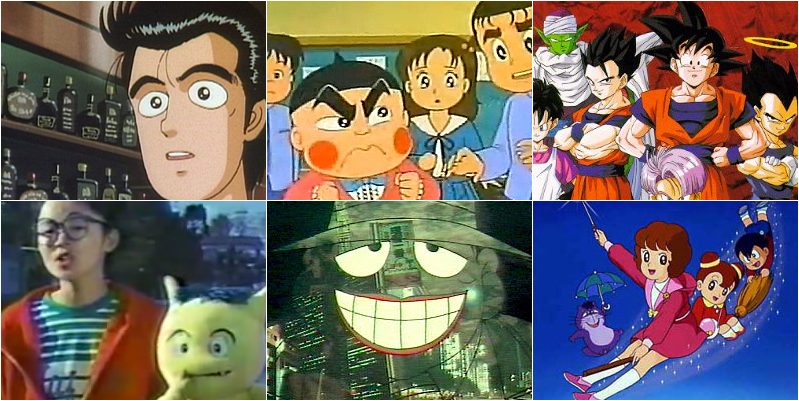 Oishinbo, Obocchama-kun, Dragonball Z, Manga Hajimete Omoshiro Juku, The Laughing Salesman, Sally the Witch
Goldfish Warning, Parasol Henbee, Ranma 1/2 Nettohen, Yawara, Chibi Maruko-chan, Obake no Holly
The Mischevious Twins: Clare Academy Story, Trapp Family Story, The Two Lottes, Brave Exkaiser, Mashin Hero Wataru 2, NG Knight & Lamune 40
Idol Tenshi Youkoso Yoko, Getter Robo Go, Nadia: The Secret of Blue Water, Moomin, Magical Angel Sweet Mint, Karasu Tengu Kabuto
Emergency Departure Rescue Kids, Robin Hood no Dai Boken, Magical Taruruto-kun, Edokko Boy Gatten Taro, Karakuri Kengo Musashi Lord, Peach Command Shin Momotaro Densetsu
The Three Eyed One, Pygmalio, Brave Fighter of Sun Fighbird, Cyber Formula GPX, The Secret Garden, Little Ghosts There, Here, Where
City Hunter 91, Doronpa!, High School Mystery: School of Seven Wonders, Jankenman, Metaljack, Shonen Ashibe
Rajin-Oh, 21 Emon, OH MY Konbu, Reporter Blues, Dear Brother, Math Fun
Lupin III: Chase Napoleon's Dictionary, Jarinko Chie, Genji Tsuushin Agedama, Dodge Danpei, Kinnikuman: Scramble for the Throne, Magical Princess Minky Momo: Hold on to Your Dreams
Burn! Top Striker, I Am Chokkaku, Mitsuteru Yokoyama's Romance of the Three Kingdoms, Marude Dameo, Ultraman Kids: Haha o Tazunete 3000 Man Kōnen
(titles continuing from the previous year in bold)
Well, 1991 definitely had a lot more shows than 1990. Even taking into account that a few of these are holdovers that ended early 1991, there's a lot more going on here.
However, is any of it memorable?
From looking at the TV Asahi survey from 2005, I noticed there wasn't any new TV shows from 1980, 1991 or 1994 listed. If you look at what came out in 1980 there are some note-worthy shows, but possibly only note-worthy in retrospect. Things like Ideon, which flopped at the time, or Wonderful Adventures of Nils, an early Mamoru Oshii work, nothing new to set the world on fire.
Goldfish Warning fits into that niche in 1991. It's notable now, because many of the staff moved onto to work on Sailor Moon the following year. If a Junichi Sato show is going to stick in your head, it's that one, not its predecessor.
To be fair to Goldfish Warning, it has racked up 25 pages of pixiv fan art so it or the manga must have been doing something right to stick in people's minds that much. Or maybe just one person who really likes drawing Goldfish Warning fanart. I don't know, I didn't look into it that deeply. Most of the other shows launched in 1991 that I searched for had 2 pages at most.
Other shows suffer the same problem but in the other direction. Dear Brother is over shadowed by the earlier Rose of Versailles. The World Masterpiece Theatre shows and their imitators are overshadowed by earlier, more widely praised work.
Some shows have simply fallen into obscurity. Even its co-creator's new fame as AKB48 svengali, hasn't stopped OH MY Konbu from being hard to find screenshots for. And I'm not even entirely sure when Math Fun ran or if that's definitely a screenshot from it.
And of course, everything was being overshadowed by Dragonball Z.
All I know for sure is this: I want to see the Monkey Punch-does-Thunderbirds show that is Emergency Departure Rescue Kids.