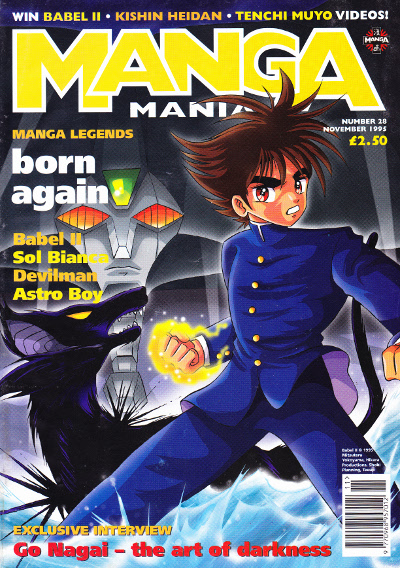 (cover art by Wil Overton)
While Babel II is the cover story, and there's a pretty good article on the OAV series, the big thing here is a Go Nagai interview. Conducted at the San Diego Comic Con, it's a pretty good potted history of his career straight from the man himself. And of course, it being Manga Mania, somehow manages to get a mention of Buichi Terasawa's CD-ROM in there.
The third article was on Sol Bianca, which only warranted a single page and kind of had the vibe of "well if you like these other things, you might like this. Maybe."
The Ghost In Shell movie's UK screenings were announced. I went to see one of them at the Odeon West End cinema, it was not the greatest cinema experience, as it was not the greatest cinema. Also making the news was Koji Morimoto's music video for Ken Ishii's record Extra. Patlabor 2 was coming out on VHS, as was The Cockpit.
RecontamineTed 1995, a convention held at the Birmingham Grand Hotel, was mentioned in the news items. This is likely the first I had heard of it, and it would prove to be my first convention. Angel Cop 5 was September's best selling anime tape and there was another reader's poll. I may have even sent one in, such was my fervour for anime at this point.
In the columns, Cyberdrome was mainly about ChibaMOO, where you could pretend to be a cyberpunk on the internet or something like that. Animatedly Yours covered the changes being made to Dragonball as it hit US TV screens, and Megabyte gave the SNES version of Doom 90%.
Julie Davis' Manga Files covered Go Nagai & Kenichi Sonoda and Peter J Evans covered Astro Boy in his Screen Gems column.
Pretty good issue, certainly an improvement on a lot of the Manga era ones I've discussed so far.