After the Dodge Danpei post I thought I'd look a little closer into the career of Tetsuhiro Koshita. His early career seems a little problematic in putting a finger on. For starters, his wikipedia page doesn't give dates or links for his earliest work. Luckily it does seem to all available on the Comic Park site.
His first work was 拝啓サラダボーイ (Dear Salad Boy?) in 1985. No idea what it was about, but it does have some curious set texts in the English lessons featured in the Comic Park preview pages.
This was followed by the similarly not talked about in English, パニック方程式 (Panic Equation?). Here you can start to see a Toriyama influence come through on the male lead's character design. According to Comic Park both these strips ran in Special Edition Shonen Sunday as it was then.
Next we have the series that really sets the tone for Koshita's career, ミニ四駆 RC伝説 燃えろ! アバンテ兄弟 (Which I'm guessing is something like Mini 4WD RC Burning Legend! Avante Brothers). It's also the first series I could find real details on, but even then I don't have publication dates for it. It was a strip in Shogakukan's CoroCoro Comic Special designed to promote Tamiya's Avante 2001 radio controlled (RC) car. As that came out in 1990, it would suggest the strip hit around that time too.
During the 80s, the RC hobby boomed and so did Tamiya's fortunes. There were two prongs to this boom, the first was the launch of a non-RC range of battery powered mini four wheel drive (4WD) cars in 1982. By 1987, they had sold 10 million mini 4WD, leading to the launch of a mini 4WD themed manga in the pages of Monthly CoroCoro Comic, Dash! Yonkuro by the late Zaurus Tokuda. This was followed by a Dash! Yonkuro anime in 1989.
The other key to Tamiya's boom was the release of their first four wheel drive RC car, the Hot Shot in 1985.
This meant you had a situation where kids would get started with the mini-4WD, then move onto the 4WD RC racers as they got older. If you don't believe me, then check out the preview of ミニ四駆 RC伝説 燃えろ! アバンテ兄弟 on comicpark.net. It is a shameless instructional document on how to enjoy your Tamiya product.
The older brother has an RC Avante, so the kid brother goes to the shop and buys the Avante Jr, the mini 4WD brother of the Avante. There are even photos of the cars in the strip. And in case you don't get the message, kid brother wears a top with 4WD on it, older brother a hat with Avante on it. BUY BUY BUY, RACE RACE RACE!
Let us also take the time to note the superb slogan of the Avante line of cars – BEING NUTS IS NEAT.
While we didn't get the cartoons or comics, the RC & mini-4WD craze spread far and wide, our local model shop in Spalding, Lincolnshire did great business in selling mini-4WD cars to our year when I was at secondary school, with some moving onto RC as they got older. Even now I find the Tamiya logo sets off some nostalgic trigger in my brain.
Next from Tetsuhiro Koshita was Dodge Danpei, running from 1989 to 1995 in CoroCoro Comic, but we've covered this in its own post here.
Then, we get the big series where Koshita truely becomes Tamiya's go to guy for selling their cars to kids, in the way Zaurus Tokuda had been in the 80s – Bakusō Kyōdai Let's & Go!!
Much like his other Tamiya strip it involves two brothers who race Tamiya cars, cars that you could then go to the shops and buy, with little pictures of the anime characters in the corner. It ran in CoroCoro Comic from 1994 to 1999 and spawned three tv series that ran during 1996 to 1998. In retrospect it feels like these sort of series are the connective tissue between the robot model kit selling shows of the 80s and trading card game selling shows of the late 90s/00s.
They've got the elements of SD look that the robot shows started to move to with the popularity of console games, they've got the kit building element of Gundam and its followers, but they've also got the stronger protagonist identification that Pokemon and the shows that came in its wake have.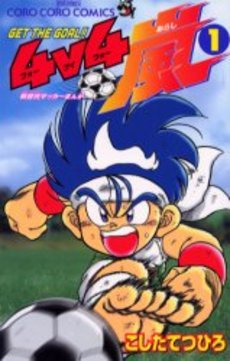 2000 for Koshita saw him return to strips that weren't designed to sell toys, with Get the Goal!! 4v4 Arashi. It did still stick to the tried and tested formula of young boys and sports, this time focussing on 4v4 football, the Dutch coaching system that gained popularity in youth football. While it didn't get the anime that Dodge Danpei and Lets & Go did, it did get a Gameboy Advance game.
And a pencil.
Such is the parcity of facts on this strip that the pencils are mentioned on the wikipedia page for the manga.
Then, it was back to working with Tamiya in 2004, with Kattobi Racer! Dangun Wolf. This was to tie in with the Dangun Racer line of models. Whereas the Mini 4WD race in seperate lanes, these are designed to run in the same lane and run each other off the course. Basically imagine if everyone in a bobsleight contest went at the same time and their bobsleighs had motors.
In effect you're seeing the physical battling aspect of Pokemon work it's way into the markets that it elbowed out of the hearts and minds of children.
Then, apparently there was something called STRONGEST WATCHDOG GAO, that I have no clue about. Anyone?
That was followed by another football manga, Goal Getter Yao, which only lasted one volume.
Then we get onto what seems to be the next part to Koshita's career. Whereas before he'd been building characters and stories around Tamiya's products, since 2008 there's been a run of series based on other people's characters. Firstly a Yatterman manga to tie into the very successful revival on television and the cinema. Then in 2010, he worked on a Toy Story series based on the Disney/Pixar property and an Inazuma Eleven series based on the Level 5 videogame.
That last one is a natural fit, as it's very much in the mould of both Koshita's sports manga and the sports/rpg hybrid videogames that were often made from them.
Please do correct anything I've got wrong or add any obvious missing aspects in the comments. There's very little in English about Koshita, so there's plenty of room for me making mistakes here or overlooking the obvious. Never the less, I do feel like I've made some more connections in my mind about how we got from Gundam to Cardfight Vanguard.