Once again very little happens, but it's a breezy ride. The first half of the episode deals with the duel between Wolverine and Kikyo Mikage. Kikyo as you may remember from last episode, is an assassin who can "pop" a sword from his wrist in a similar way to Wolverine's claws.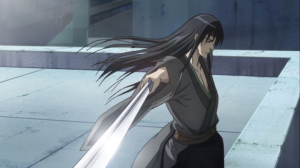 In a somewhat odd manner, this sword has a hilt and is jointed so that Kikyo can use it like a real sword once it comes out his arm. It's visually weirder when seen next to Wolverine and his rigid claws. Plus, it begs the question "how does he bend his elbow when the sword is sheathed?".
I refuse to throw too much scorn his way. Back when I first bought TSR's Marvel Super Heroes Role Playing Game – Basic Set, the very first character I rolled up was not too far from Kikyo. And probably not too far from characters any other X-Men-reading 12 year old would have rolled up. He was a mutant and I rolled that he had "Natural Weapons" as a power. So my brain went "X-Men… Axeman… HIS HAND TURNS INTO AN AXE!". I ask you, what is a more natural weapon than an axe? Thus the newest X-Man, Axeman was born. And then never played in an actual adventure, as I was always the GM.
Meanwhile, back at the anime. Visually it looks like Kikyo killed Tesshin Asano, and that's who Wolverine accuses. But during this episode Yukio reassures Logan that she's on his side so much that I still can't help think she's the guilty party.
The second half the episode involves Yukio & Wolverine ruining Hideki Kurohagi's plans by blowing up a drug delivery. This is visually stronger than the first half's duel. That was a good concept let down by perfunctory execution, this is something you've seen in dozens of action films and TV shows, but has some shots that make impact.
Before Wolverine can deliver his vengeance on Hideki, we get the lead into the next episode as 1990's X-Villain sensation, Omega Red appears! So we've that to look forward to next week. The series continues to surprise me in how watchable it is for something so relentlessly average.